Amigos 🌵! Im Hayato in  around the world.
 
 
 
Temperature is 15 ℃, weather is sunny
 
 
 
Currency → 1 € 🇪🇺 → 130 ¥ 🇯🇵 → 1.17 $ 🇺🇸 → 4 zl

Do you know Auschwitz-Birkenau ?? How do you think ??
 
 

Departing Warszawa by train at 8:00 am ~ the mother of my friend took me the bus stop.
 
 
Warszawa has many bus terminals, it is rather troublesome unless you confirm it.
 
 
Get on the bus and get Wi-Fi.
 
 
After 2 hours welli got a wonderful message saying "Thank you for using our internet! It Expired😆!
 
 
Is FLIXBUS all like this? I'm boring.
 
 
1: 00 pm arrival.
 
 
I decided to go to the inn. I was thinking variously whether I should go straight from the bus terminal to Auschwitz.
 
 
I quickly checked in and thought about the time, Auschwitz would go on the next day. Then I went to buy a bus ticket. 
 
 
I bought tickets at the ticket office on the second floor. Cost 12 zl. There seems to be a case of 14 zl, though.
 
 
Explore the town as it is.
Personally, such a scenery is full of stomach. The ☆ Tourist place! I feel it.
 
 Oh, there was a nursery school. I
t was stuck to Gatsuri church.
 


During acclaimed summer vacation.
 

The river is beautiful.
 
 
Dinner was a large amount of salads at the supermarket with bread.
 


yummy... like a hungry caterpillar  ...
 
 
When I return to the inn, we live in the courtyard. I have to get up early so I prepare to go bed and get to bed. I could not sleep if I tried it.
 
 
I got up at 6:30 am and checked out. Auschwitz accept small back as there is regulation on the size of the back. So I took my small back.
 
 
Mini van appeared.

some people didn't  have seats LOL
 
 
Running 1: 30h. 9:00 am arrive exactly. There are already many people.
 
 
In the case of tour participation, it is good to go along with that time, but if you do not have a tour, it seems you can only enter from 8: 00-10: 00, 15: 00- so be careful. Of course, we can book the tour on the same day so "I can not enter without having made a reservation the day before" is a big lie.
 
 
There is also a Japanese guide (Mr. Nakaya). Would you like to email him directly (Auschwitz Nakaya-san, if you type like this, as soon as appear his e-mail) Or you look for it from the Auschwitz home page.
 
 
Just because it is quite popular and Japanese guide is only he, it must be reserved for a long time ago. I saw that it filled up until early August.

I got  a ticket here. Incidentally enter is free.
 
 
The problem occurred here. It was useless at this back size. I thought it was 20 x 30 x 10 size _| ̄|○
 


 
I had to leave my luggage(4zl) . 
 
 
A famous gate. "Arbeit macht frei" (to be free if you work)

Bringing in water is OK. I saw one woman had 1 L orange juice.
 
 
At the shop, map books are sold at about 12 zl. It might be bought because it is quite large, if there is no guide (there is Japanese books

This barbed wire is stretched everywhere.
 
 
There are also a lot of panel exhibits and I think that records as photographs remain unexpectedly.
 


Arrived at Auschwitz by train.

At this point it is divided into death or labor. There is no hope for women, children, old people, and so on.
 


Children.
 
 


The woman on the left came right photo as gets thinner

Prisoner clothes. It does not change in spring, summer, autumn and winter.
 

There was a class among the prisoners and They were divided the rank.

 

Creating a pyramid system gave us a sense of security and it was reduced their uniting power.
 
 


Bags of people who arrived. All confiscated.
 

The shoes they were wearing. There are more than four blocks of such piles.
 
 
Poison gas used in gas chamber
 


 
 
Shooting in the gas chamber was forbidden 🚫 , but it was cool and dim. ... Anyway, Everyone just need to feel it on my skin.
 
 
There was also an exhibition of the hair of a woman who died in the gas room, but this is also prohibited 🚫 . I have never been surrounded by hair piled higher than myself in my life.
 
 
In the aisle there is a picture of a deceased person.
 


From child to adult, They're  looking at this face with an indescribable.
 
 
bed.
 


They  spend the week on arrival and on this straw.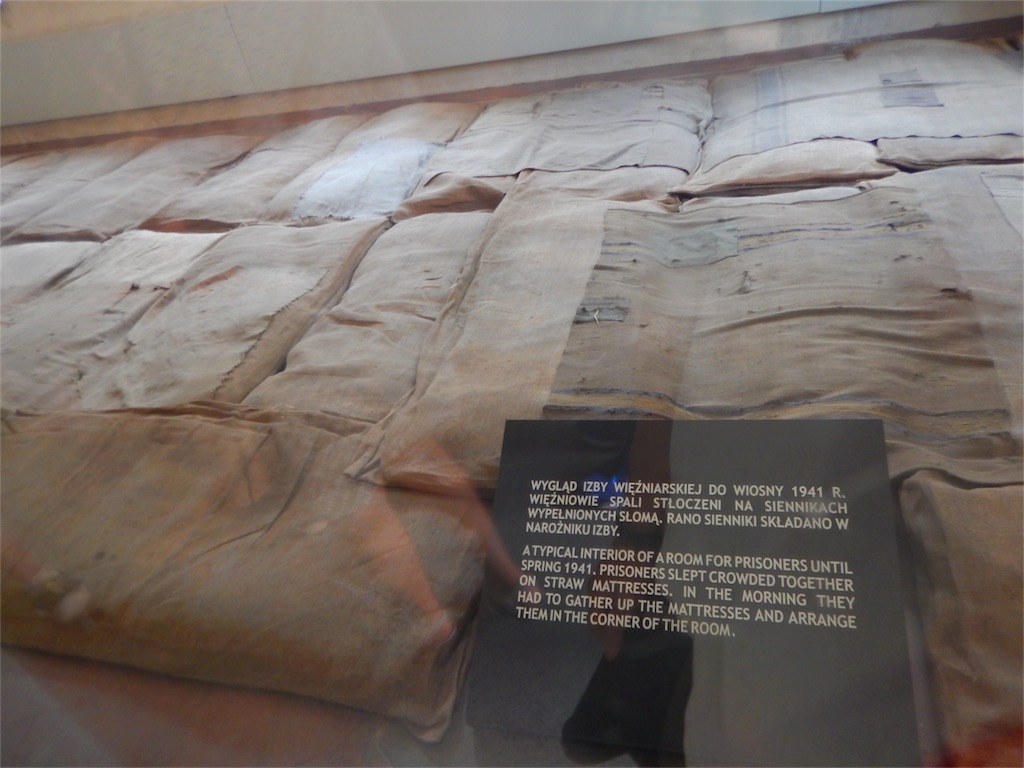 It is too narrow.
 
 
Meal.
 


It is not called MEAL.
 
 
The wall of death.
 


The shooting was done here.
 
A gangster. It was exposed beside the aisle for the sake of the show.
 
 


Incinerator. The burner is a caught person. Even so for them ...
 
 
There are various exhibitions, but there are lots of things that can not be taken.
 
 
After this I went to Birkenau with a free shuttle bus.
 
 


The rail move people by this track.
 
 

The stable becomes their bed.
 


Ruin of gas chamber.
 


People who were judged not to work at the first time were brought here as it was.
 
 
It is just wide and the flowers growing around there can not be said anything ...
 
 
Auschwitz-Birkenau would have been just a ruin if there were no one who conveyed this fact (a survivor).
 
 
What is war, let me think about what human life is.
 
 
I posted a lot of such pictures, but You can not feel that you do not actually go.
 
 
I wish school teachers would like to adopt the system that goes to Auschwitz in training to learn history. Fear or thought that 100 million lives were deprived of by human hands is not 100 years ago. I think that it is important for things that work at the forefront site to convey them to the next generation.
 
 
That was a serious story.
 
 
YOLO !!