Amigos🌵!世界一周中のはやと(하야토)です。
気温は21℃、お天気は晴れ
通貨→1$🇺🇸→0.8€🇪🇺→130¥🇯🇵→9.4MAD🇲🇦
Hayato with Djellaba
I CANCELED TO GO SAHARA!!!
Coz every seller is gloomy and persistent and noisy. It made me annoyed...
This time Sahara wasn't attractive place for me..
One day I'll go with someone...
Next destination is Agadir!!
Agadir is also famous place in Morocco. There is good surfing spot. 
Hostel breakfast is nice.
They cooked.
Because checkout was 12:00pm, I got rest a few minutes with cat 🐈 
Ka..kawaii...
I left hostel. Oh yesterday I met Romanian guys!!
They smoked marijuana(hashishi)🌿 lol
Enjoy your travel!!! 
I walked 20min to bus station. There is Of course noisy. 
I decided to ticket counter where I go. So it was very smooth to take ticket. 
From Marrakech to Agadir is 70Mad. As Nobady wasn't outside of bus, I got on there with my backpack. No pay luggage fee again. Yeah. 
Boooon....
3h later, arrived!
Near Agadir bus Terminal has also local bus stop. There are a lots ALSA BUS. It means that we can get WiFi!!!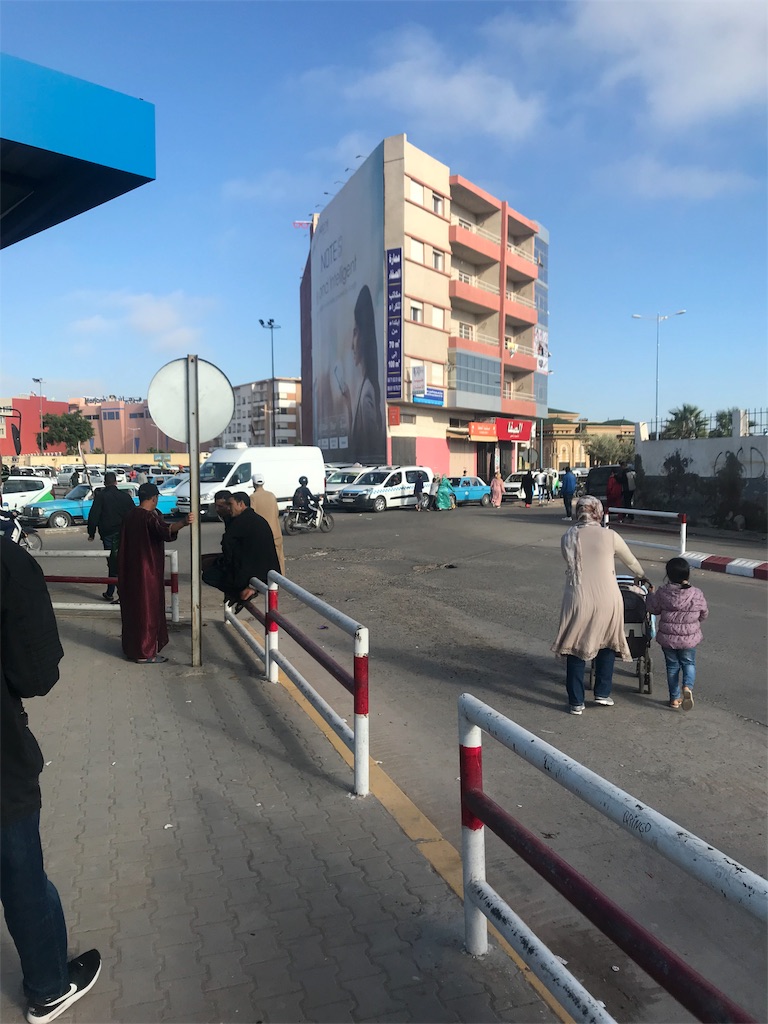 Each bus has WiFi ( some bus doesn't have). You will be able to catch. Not stable but better than nothing.
As people look like to really want to sit down, getting on Bus is war.
(*゚ー゚)=○)゚O゚)punch!!!
Everyone shout and shout and shout!!!!
I have host here. He taught me how to go near home.
When I wondered which bus is correct, one guy helped me. Nice!! He couldn't speak English, but he showed me map and indicated. Communication is not only language!! This is one of communication!!
Bus is 3.5Mad. Little bit cheaper than Marrakech. 
Although Bus has map, they don't stop each point lol. Customer have to make driver notice what I get off here by knockking or beating hardly the door and shouting.
Heeey!! Don!Don!Don! I get off!!!Don!Don!Don!
No meaning lol
We we met on bus stop and went his home.
He is university student and leaning Koran as well. Mr.Mriss:)
He showed me Koran. And it's first time to see it:)
While I took it, he said " If you're not Muslim, you can't take this"
Ohhhh! I didn't know!! 
This book seem to be very sacred book🙊 Sorry. 
After he passed me Djellaba.
Djellaba

Why I put on Border T-shirt.... Strange( ゚∀゚ )ハァーハッハッ!!
Oh?
What!!!
Hehehehe...
Thanks Mriss!! It was good experience!!
We ate Tajine.
Tasty! With olive tajine.
Sweet Couscous. Looks like Mt Fuji. 
His original is Beru-Beru. It's first time to see kind of him!!
YOLO!!