Amigos🌵!世界一周中のはやと(하야토)です。
気温は23℃、お天気は晴れ
通貨→1$🇺🇸→0.8€🇪🇺→130¥🇯🇵→9.4MAD🇲🇦
Finally I could get WiFi after two day!! I'm challenging.
What does Hayato do??
Answer is HITCHHIKE 👍!!
"

Agadir

→→→→→

Dakhla

"
Total distance is about 1200km.
If I could complete, it would be my new record Ye━━━━━ヽ( ゚Д゚)人(゚Д゚ )ノ━━━━━━ah!!
For exaple)
•••Tokyo to Hokkaido is 1133km.
Now I'm on the way..
Last day of Agadir, Mriss and I went to local market. Looks like Used... or garbage were selled. Even small battery was selled. I suppose that it is died haha.. Mriss told me "Sometime used toothbrush is selled." 
Intersting lol
We ate filet fish(フィレオフィッシュ)。
Joke. Not this.
Here you are.
Second image is 4Mad. Quite cheap. Tast is good( ´∀`)
As Mriss was hungry , he ate 2. 
And were rest. Dinner is harila soup.
White it was nothing ingredients. Looks like OKAYU. With soy sauce is goona be more tasty haha.
Next morning I went to Hitchhike point. Thanks for everything Mriss!! We can meet in Japan one day!!
By the way, there is bus from Agadir to Dakhla. Local bus is 380Mad. CTM is 410Mad.
Let's go Tan-Tan!!
At that time I trusted I can go Tan-Tan until night. This thought was mistake...
First car stopped. Driver is University student.
He also likes traveling. Thanks!!
Second car of driver is Senegal guy. But he is working in German. Since He is vacation , he is traveling in Morocco.
We talked about Senegal. He gave me a lots information. I didn't know Senegal people usually eat fish than meat. I'm looking forward to going there.
he took me until Tiznit.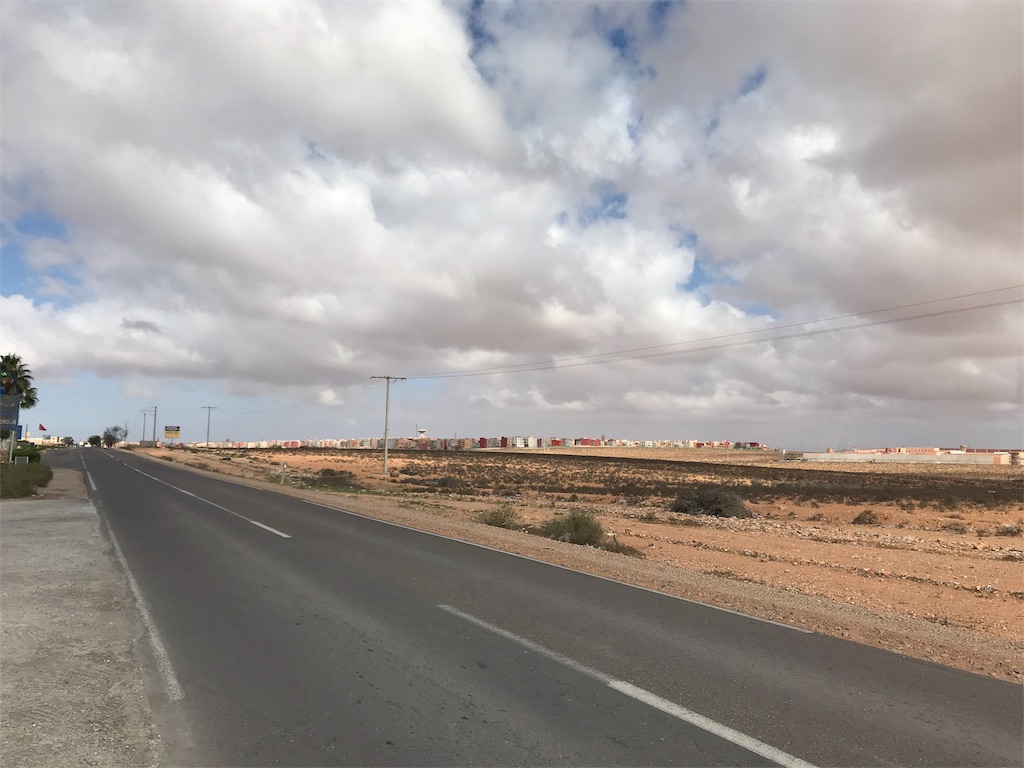 This point was one of difficult place... While Only towards the South, no one stopped. Someone did action like what are you doing 🤷‍♂️?? And just smile.
I changed destination.
Guelmim is closer than Tan-Tan.
But people still didn't stop.  So I was waiting 4h!!
This waiting time is also my new record.👏
One guy gave me milk.
chukran!
Finally one car stopped and he said "I and my friends go Laayoune"
Wh!!!! Whaaaattt!!!????Im gonna there!!! Let's go!!!
In the result, we started to go there.
Tomorrow I will write about crazy experience of this distance. This drive was DEAD OR ALIVE ☠️😇..
YOLO!!