Amigos🌵!世界一周中のはやと(하야토)です。
気温は22℃、お天気は晴れ
通貨→1$🇺🇸→0.8€🇪🇺→130¥🇯🇵→36UM🇲🇷
The morning there ware Mathis shoes in front of next room lol
He took it and hid in his backpack. We should hide everything!! Be careful!!
ま、家の中なんだけどね。
Today our plan is gonna Casado which is more south part.
Mathis say "this beach has scrapped vessel"
Wow!! It's interesting!! Let's go! 
Omar took us there. Thanks.
Casado is looks like Europe city. It's totally different in Nuadibu.
There were a lots moule!! 
I recalled what I cooked vòngole spaghetti and soup in Portugal. It might good.加藤くん元気か?
We went to buy sandwich. 1 sandwich is 50UM. Like 150Yen.
When we were eating it, kids also were playing near by us. Then they noticed us, and suddenly face changed sadly face.lol
"Give me money" they said something like that. We took their hind and shake lol
That is one of how to avoid them.
After lunch we continued to walk to scrapped vessel beach along with coast.
Big moray!
catching dead fish.
When we arrived there, some people were talking metal from ship.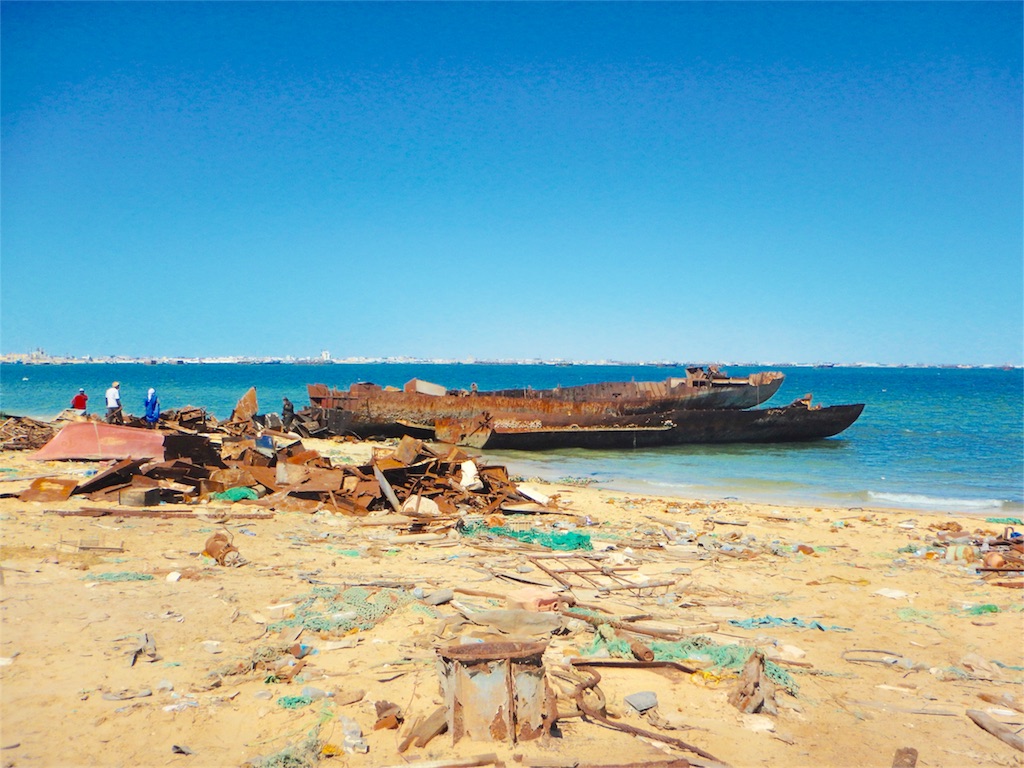 They are gonna sell it. But it is illegal business. When I was taking photos, one of them said me "No!!":(;゙゚'ω゚'):
There were more than 5 ships in the sea. Long time ago there were a lots ships here. But somehow they disappeared.
Now this place is very bad smell and dirty. It's not sightseeing point😂
Jump!!
So we searched good place to swim and chill. 
Mickey is nap time zzz(🙏☠️)
We walked 30min and find it.
How do you think?? Lol
This is private beach. Wave is not so strong. Quite good!!!
はしゃぐ25歳。仕事もしないで遊んでおります。
因みにGoktanは24歳。こんなにけむくじゃらなのに俺より若い。
We spent 30min with fucking strong winds 💨
This area is attached sea and desert. Very strong wind bring small stones for my body!!
これが中々の破壊力w
On our back home way, we did hitchhike. All people get used to doing it. Altogether I'm not sure this is reason, we could get one track soon.
Then we came back home and eating. Dinner is fish meal. I get used to eating it but other guys didn't like it. Haha
After dinner Mathis and I went to get food. We found such a churos!!
we called "Suger ball"
About 20 balls 10um!! Cheap and delicious 😋 
Also Mathis wanted to eat more food. That's why We went to restaurant.
He ordered just chiken and potatoes. But they gave a lots lol
80um
As he couldn't eat all, he brought left food to home.
Of course this day also had problem.
It was blackout.
We can get sleep well!! Lol
YOLO!!