Amigos🌵!世界一周中のはやと(하야토)です。
気温は19℃、お天気は晴れ
通貨→1$🇺🇸→0.8€🇪🇺→130¥🇯🇵→36UM🇲🇷
So we arrived Nuakchott at 10:30am. Adiós driver 🤣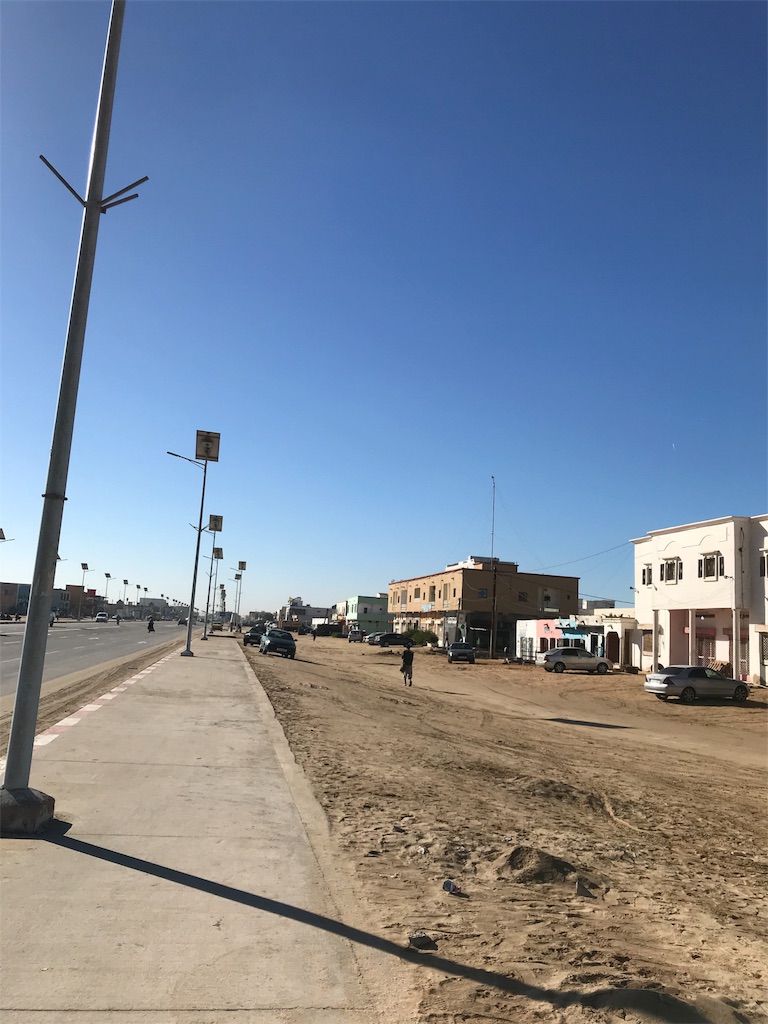 This avenue has solar panels!! I'm not sure that these work or not.
And The Eiffel Tower.
Petit lol
Tomorrow seems to be holiday as Mohamed happy birthday 🎉 That's why there were a lots shop of nationally goods.
ガヤガヤ…
We walked around 30min, then we could find one cafe. We took coffee and finally got WiFi. 
Mathis already contacted a host. He accepted us. OMG!! How a easy!! Thanks 🙏 
He said "we meet around 4pm" So we were chilling in the cafe. 
Sometimes street sales-mans came and offered. One of them selled stolen phones, clothes, accessory, etc...
By the way if they understood im Japanese, they say " I was in Japan" or " I worked with JAICA"
*JAICA is kind of NGO of Japanese
Why people who have experience to come Japan work small business such a Street selling??
And JAICA helps kind of you guys!!! Lol
So funny for me.Its Mauritania entertainment.
Around 3pm he sent message "Sorry can we meet 6:30pm?"
Why not? We have fucking amount time. Lol
As we could get time, we walked around cafe shop.
Then we found supermarket. It was surprised!!
There is price tag!!
1L→50um
However It's not cheap, we felt relived lol
We came back cafe again. 
お祈り中。
増えた。
Finally we could meet my host!! He looks like Arabic face. 
第一印象でわかる、この人良い人や( ゚∀゚ )ハァーハッハッ!!
We go to his home on the way, we took bus. Host whose name is Adan said " the bus is not new transportation but people usually don't use this."
Passengers looks like to ride attraction lol
遊園地のアトラクションに乗ったかの如くキャーキャーワーワーと騒がしい。
And they sit down on the floor when there is full seat. Omg..
Woman is in front. Man is behind.
床も席なのかみんなガンガン触ってく。結構シビアな席取り。間違って立ってしまったら席はない。笑
Mathis was said "Are you Indian?" and touched his hair 😂
We arrived his home. His home has WiFi!!! Great. 
I got one big impact things as well.
He isn't Muslim.He doesn't have religion.
I'm looking forward to talking with him!!
YOLO!!