Amigos🌵!世界一周中のはやと(하야토)です。
気温は19℃、お天気は晴れ
通貨→1$🇺🇸→0.8€🇪🇺→130¥🇯🇵→580CFA🇸🇳
Well, there is no direct bus...Otherwise there is bus for Dakar.
Why no direct bus!!! Saint-Louis is on the way to Dakar!!!!凸(▼O▼メ) 
And cost is mostly same... wtf...
Anyway I seem to have to go Oréfonde. Then I take another bus. 
Bus waits passengers. Until full, this bus didn't depart.
While I was waiting, I viewed fire in opposite shore.
Mathis,,, I hope you're alive...
Finally we departed 1h later. 1500CFA.
Run off road. The door which is beside of driver was broken. That's why it opened and closed .... lol
And It spent 1.5h!! Even map shows only 34km( ゚∀゚ )ハァーハッハッ!!
Oréfonde.
It was not town!!! Lol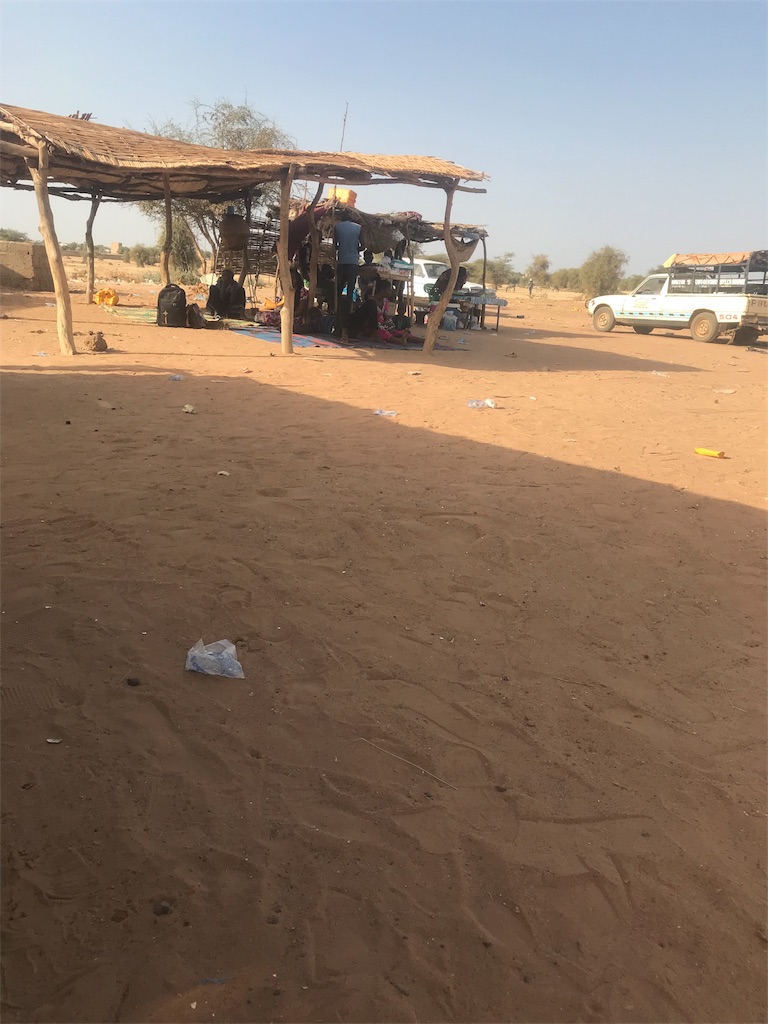 Bus terminal (?)
As The sun was too strong to wait without roof. Then one guy gave me water... I was looked like mummy..?😂 merci.
It made me revive.. water is delicious 🤤 
Of course I was waiting for 1h again. I got used to waiting everything. So if my girlfriend came to be late, I absolutely wouldn't  be angry haha.
Started at 17:00pm. It's such a train that stops at every station so all time when I saw a map made me cry... no proceed 😭😭😭
whenever bus stop, sellers closed bus and called things what they want to sell.  "Sugar 5kg!! Sugar 5kg!! Sugar 5kg!! Mandarin~."
Who wants to buy Sugar 5kg!!
I was talking a guy who was sitting down next me. He can speak English!! His nationality is  Guinea 🇬🇳 And going to go France(without visa🙌) on the way.
When I go to Gunea, his family host me!! Wow! Excellent meeting with him!!
He got off in Rosso which is border town between Senegal and Mauritania. See you!! Enjoy your travel!!
Finally I also arrived Saint-Louis!!
3:00AM
Dark,silent and cold.Where I am?? Yes... this situation is not good.haha.
I have known people who is brother of my friend. But you know that time... it means sleeping time.
I was sleeping on a bench along with sea. Zzz
I got up and asked people " I wanna call my friend."
But People didn't have telephone number (I don't know why🤷‍♂️) even I asked person calling or using their phone.
On the contrary there was a situation what One guy asked me. "Ca va?....."
I told what I wanted to do, he also told me I don't have phone number. But he gave me sandwich 🥪!! Merci!!
Another guy also gave me coffee. Merci!!
quite sweet and chemical taste coffer ☕️ 
Finally I could contact him. He came and picked me up.... when I arrived his house, clock pointed 9:00am.
Looooooong cross border. I recommend to cross border from Rosso if you come easy from Mauritania.😂
YOLO!!