Amigos🌵!世界一周中のはやと(하야토)です。
気温は19℃、お天気は晴れ
通貨→1$🇺🇸→0.8€🇪🇺→130¥🇯🇵→58CFA🇸🇳
I spent 3night-4days in Saint-Luis. What I did is ....rest!!! 
I could get shower (even not hot, no problem!!!) bed, fan, food whatever I usually use in life. These items are such a spice which makes you more enrich your life. I'm happpyyyy.
In Saint-Louis it's difficult to find WiFi ( not only here but also African countries ). I asked police and they told me " No cafe with WiFi here"
Even if what he said is incorrect , certainly I haven't seen cafe. As here are restaurant or Bar(beer 😍) for rich people, tourists, you can get WiFi there.
In my case I tried to buy sim. Then I asked one woman who works small shop where can I get sim. Fortunately she gave her sim!!! OMG... how kindly....
Although We couldn't talk too much, I guessed she said I can use it until 2days later. No problem!!
Dinner. With vegetables 😂
Second day I went to beach area. This region is more develop in Saint-Louis.
So mostly visitors stay there. 
When I was walking here, I found this↓↓↓
RIZ SAMURAI ⛩
SAMURAI RICE 🍚!!
I've never eaten.. how tast... by the way African rice is similar to Japanese rice. But more be crushed. I assume they care about ore amount than quality(΄◉◞౪◟◉`)
And walk litt bit, there is another river. I saw fishers just leave and go sea.
Wave hands for me lol
There is cemetery between residence and beach.
Long life than I thought.
The sea sea is pretty good!! But shore is terrible.. it let me remember What I was in Cansado. Lol
Clean and green!! 
Behind is ....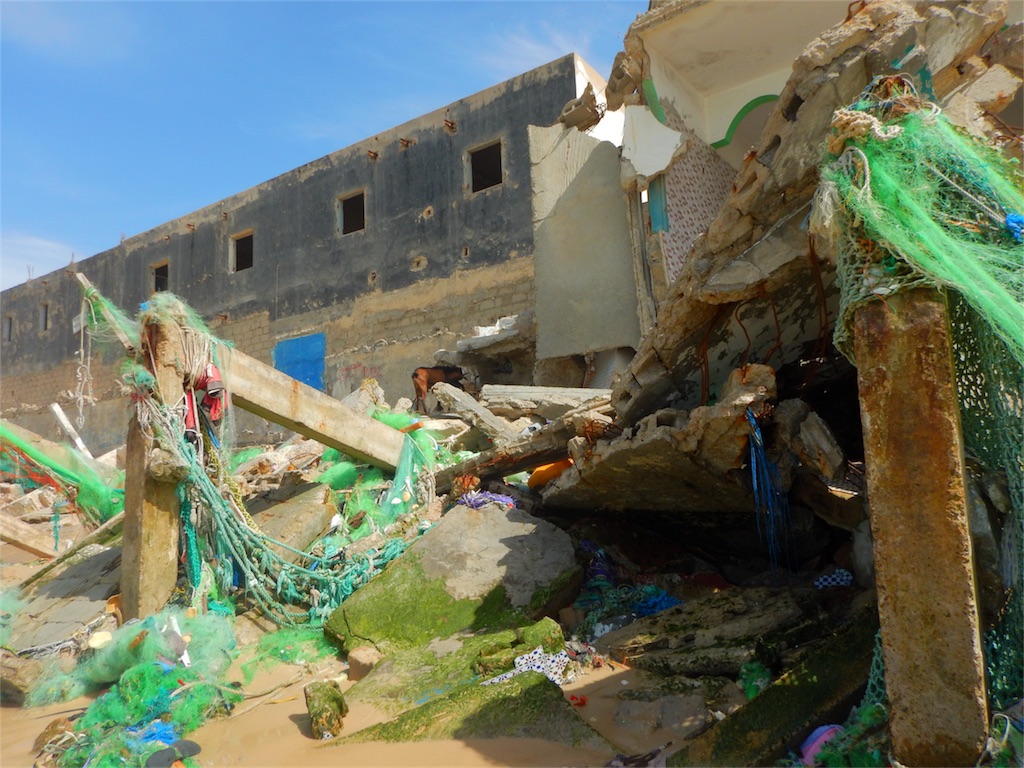 Fly, trash and following mysteriously liquid...
#dontlookaroundthesea
If Senegal government started to clean up here, people would come more and more.
When I came back to home , there was party on the street.
OF COURSE I JOINED!!
YOLO!!