Amigos🌵!世界一周中のはやと(하야토)です。
気温は30℃、お天気は晴れ
通貨→1$🇺🇸→0.8€🇪🇺→130¥🇯🇵→58CFA🇸🇳→50d🇬🇲
【Senegal Gambia how to go】
After all I stayed in Dakar 1week. This week had a lots football match. I saw it whole day or walking around home... mostly time was chilling...
I decided to go Gambia 🇬🇲. Gambia is inside Senegal but it was colony of UK. So people can speak English.
It's interesting. Despite of Such a Vatican 🇻🇦 or San Marino 🇸🇲 , Currency, language ( I mean they speak Wolf, second language is English) and government system is totally different. I think kind of colonial rule is still working and powerful effects.
So let's think about what is independence.
What controled luggage is awful. Of course each African countries has main language. But If TV, newspaper, In school and whatever you see, or hear is second luggage, it doesn't need to speak and use main language step by step. I feel this situation is scary as like stolen country identity...
For example, X Soviet countries were speaking Russian. But now days each of them speak and use original language. Although They could speak Russian as well, they don't use. And Korea and Taiwan they were colonized by Japan (haha), but they use their luggage.
Also if language is same, people think economic power. Then an economic better country could think we are better than them. It makes vertical relationship. 
ummm...  After all I don't know what i wanna say.. lol
Anyway what we have main language is important. 
From Dakar to Gambia, I used bus. It cost 5000cfa. Distance is as well as Saint Luis to Dakar but cost is double price... why?? Lol
Then I saw one guy who is from Guiana Bissau. He speaks Wolf,English and Portuguese. Guinea-Bissau people usually use Portuguese??
He and other passengers who had been waiting before I came we're so tired and angry. What time bus depart!!??
Oh this is Africa lol. Your country is as well😜??
Finally bus departed after I had waited 30min. The bus run and picked up passengers on the street. I think if you do it, it doesn't make sense to wait beginning point to gather. It means just wast time.
when we arrived Kaolack, driver told me to change bus.
Oh? It was not directly..
Second one was already full people. I got used to being full... 20km left from border, I changed bus again_:(´ཀ`」 ∠): why? Why? Why????
Ohhh 10pm, I arrived border... it spent 10h drive.... I wished I arrived until 8pm..
This border is very famous as there are a lots bad exchange people. I knew it. But I wanna try to negotiate them!!!
Yes, this choice gave me interesting experience.
Mostly traveler (even Japanese) have to pay to get Visa. The cost is 3000Dalasi.  You can pey € or CFA, but Dalasi is the cheapest way.
When I was walking, people immediately gathered around me. 
Hey hey heeeey!!! Let's battle 😆🔥
I wanted to changed 40000CFA→3400dalasi. If I would get exactly 3400 dalasi , I win.
Maximum dalasi bills is 100. Then one guy gave me 34 bills of 100. I was gazing what he counted. Also I counted again and again....
1,2,3....ok again.. 1,2,3....
OK!! Deal!!! Yeah I won! Thanks!! And bye 👋 !!
After that, I went to Immigration of Senegal and Gambia.
When I went to Gambia police check, he say "give me dinner. I'm hungry..."
me too. I don't do bribe haha.
He made me pass for getting visa room.
I entered and said " give me visa". One guy said "3000dalasi"
OK!! Here you ar.......eeeeeee??????!!!
I have only 2100 dalasi!!!
Screaaaa━━━━━━(゚Д゚|||)━━━━━━m!!!!!!
Screaaaa━━━━━━(゚Д゚|||)━━━━━━m!!!!!!
💩
It was magic.... how were they doing.....
I was wondering and upsetting. Then Gambia polices taught me what happened and what I should.
I went to search the fucking man. Of course they are already gone... otherwise the other exchange mans gathered me "Hey how are u? You wanna change money??"
Im not good because of such a you guys.💩
OMG OMG OMG OMG OMG OMG OMG OMG OMG OMG OMG OMG OMG OMG OMG OMG...
I came back immigration of Gambia with unhappy face... 
We talked and somehow they managed VISA HALF PLICE!!!
Great!! Gooooood jooooooobbbb👍👍👍
Finally my earning↓↓↓
First plan
3400-3000(visa)=400



Actual circumstances
2100-1500(visa)=600
Money increased ( ͡° ͜ʖ ͡°)
200d increased🙌🙌🙌
Thanks Gambia!! Love Gambia!!
Wait... I made one relationship as win-win-win?? Fucking exchange get cheated money, Gambia police get bribe and my money also increased.
After all I did best way( ゚∀゚ )ハァーハッハッ!!(だよね??)
From border to River side was 50d. The last ship which goes to main area of Gambia is 11:30pm. 
Although Several people agitate " the ship finished or you should go as soon as possible", last time is 11:30pm!!! Don't upset.
Ship is 25d. Everyone have to buy ticket. The ticket center is in right side of entrance.
25d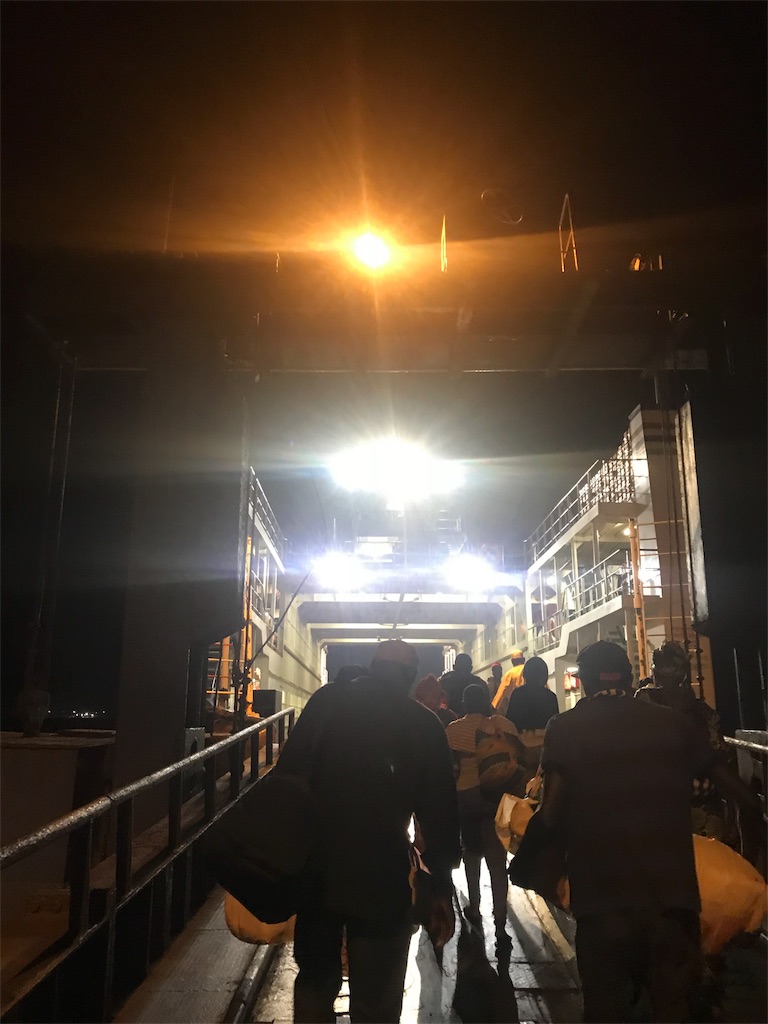 Banjul whichi is ship destination to city center is also 25d by min bus.
Local people helped me too much!! I'm looking forward to seeing here!!
YOLO!!