Amigos🌵!Je m'appelle Hayato (하야토)!
Temperature 29℃, sunny
💱→1$🇺🇸→0.9€🇪🇺→111¥🇯🇵→1.7Man🇦🇿
After burning day, I went to mad volcan 🌋 .
One of famous mad volcan is in Colombia 🇨🇴 This volcan is so huge that's why many people swim.Otherwise in Indonesia, Costa Rica, etc...
Do you think what this volcan is dangerous ??
Answer is NO.
It is the mud that spouts out with the underground gas. In wikipedia, "The topography and the phenomenon that clay in deep underground erupted on the surface or the sea bottom with groundwater and gas etc."
泥火山(でいかざん、泥水噴出孔、英: mud volcano, mud dome)は、地下深くの粘土が地下水およびガスなどとともに地表または海底に噴出し、堆積した地形や、その現象のこと。

火山の名称が付けられているが、必ずしも火山活動と関係のあるものではなく、溶岩などに比べるとその温度は非常に低い。

*Wiki
Well, Let's go there !!
There are local bus as I searched how I can go. So I took a bus.
My destination seems to be popular place because of bus terminal But passengers were decrease and decrease...
Finally I'm alone...
The bus suddenly stopped small bus stop.
🤦‍♂️
Google let me take fake bus. Que mierda.
Luckily I found one bus which goes to bus terminal.
And I met Igor again haha. Although he went to Russia from Georgia, he changed his plan. This morning he arrived Baku.
This bus terminal to mad volcan is 1man. A taxi driver offered us in front of the bus lol.
He explained "This bus is 1man!!! You can go near volcan. But you have to walk one way 10km!! So total 20km!! Come my taxi!! It's 20man!!"
20 ((((゚ロ゚*)ノ
So expensive !!!
I heard my friend experience and saw map. Both of them said 5km. 
BTW, why you explain in front of exactly bus?? And crazy cheating price ??Lol
Of curse we chose the bus.
While we were walking, we saw many oil places.
Leaked out.
Leaked out.
Leaked out.
石油ダダ漏れwww
Give me one acre!! I will be able to be oil king 👑 !!
One hour later, we reached upon top. There were small mountains as kids made.
ポコッ、ポコッ!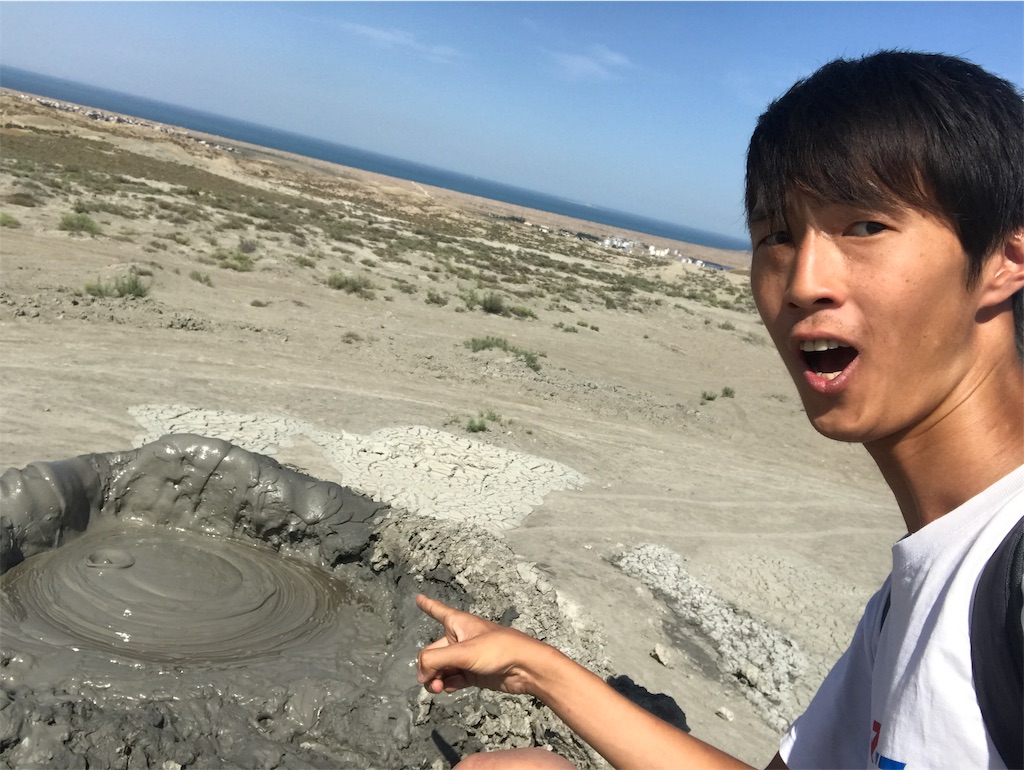 変わらないのは顔だけ。
The mad is cold and sticky. 
足を突っ込むイゴール。
Several people were into the mad. But we didn't. Because we forgot to bring towel and clothes... If you can swim, no problem. 100m ahead, there is a big clean lake.
When we cameback, we walked incorrect way.
It spent 30min. So fast lol
子どもに囲まれるイゴール。
The time which I leave Bakú is closing... It may not be enough to spend just 10days to see Azerbaijan but I dislike mosquitoes!!! So I escape from mosquitoes hahaha
YOLO!!