Amigos🌵!Je m'appelle Hayato (하야토)!
Temperature 29℃, sunny
💱→1$🇺🇸→0.9€🇪🇺→111¥🇯🇵→1.7Man🇦🇿
Too hot..
I did Camping !! So I can't upload yesterday.
言い訳はしっかりです。えぇ。
I decided to leave Azerbaijan in the night. At first I would go to border Hitchhike but I found cheap train ticket. 
From Baku to Bejuk-Kjasik.
Where is Bejuk-Kjasik
( ͡° ͜ʖ ͡°)
It is last station and near border which is not famous than any other.
The distance is almost 500km and spend 9h but price is amazing.
9Man(4.5€)!!!
Wow━━━━━ヽ( ゚Д゚)人(゚Д゚ )ノ━━━━━━wow!!!
I can sleep and close border!!
No choice. I decided to buy it. I left home at evening. As I didn't have coin for metro ticket, I walked 7km.... fuuu...fuuuu....
コインが無かったから電車のチケット買えず。。。7kmバッグパック背負ってセントラルステーションに向かう。フゥフゥ……_| ̄|○
While I was walking, I sweated as like Iguasu water fall. When I arrived central station, Only I looked like to get storm ⛈ 
Ticket office accepted credit card however I paid cash. And some people could speak English.
ticket
⚠️Look carefully!!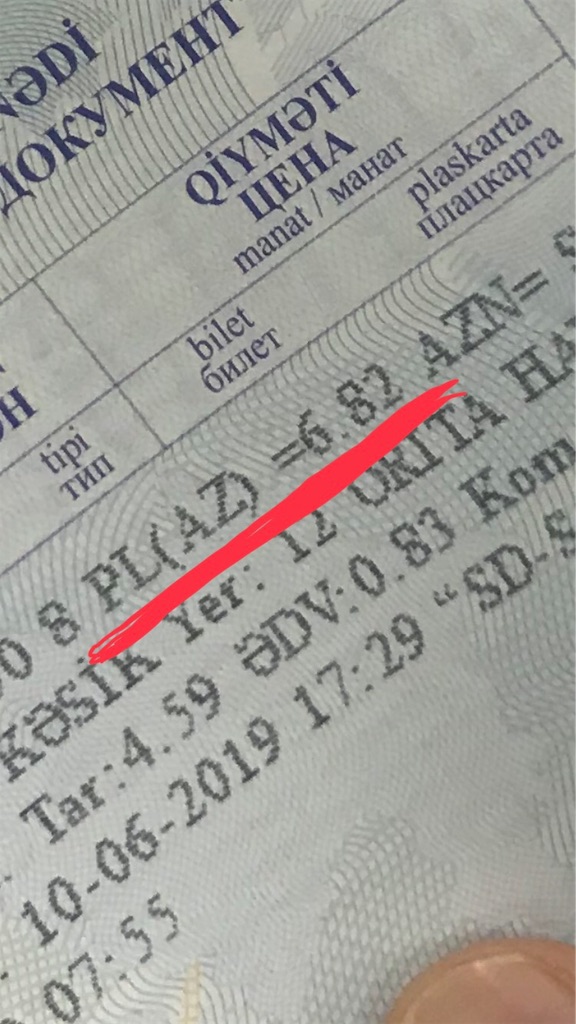 6.8man(3.5€)!!
Certainly there was cheaper ticket than online!!!
Of course I chose most cheapest seat. Btw online sell from second class??? I recommend to buy ticket in station.
waitng space. Although it was written "free WiFi", it didn't work.
The time which I leave came. I headed out to platform.
There were many people. This train seemed to stop some cities.
For poor people 
seat for poor Japanese boy.
Train was as well as I took in Russia. So they have hot water.
Chai is 0.5man otherwise water is free.
So Russian train doesn't have air conditioning ( especially in this case??), inside was horrible hot and humidity.
Thats why people opened window.
Next compartment opened.
So we also tried to open...
Our comaprtment can't open!!!
We are gonna melting..
Mammy ..
Dried... give me water...
Why only my compartment can't open!!😭😭😭however besides could be and looked like comfortable than ours.
なんで奇跡的にも俺のコンパートメントだけ窓が開かねぇんだ!!!
Around 2am, it started to be cool... finally...
8:00am, train arrived. Most of passengers used taxi but I walked 5km until border. Then nothing happened in both of immigrations.
Straight road to border.
Georgia!!
From border to Rustavi was 1.5lari by bus. And From Rustavi to Tbilisi was hitchhike.
Finally I cameback in Tbilisi. Just rest and go Armenia next day!!
YOLO!!