Amigos🌵!Je m'appelle Hayato (하야토)!
Temperature 36℃, sunny
💱→1$🇺🇸→0.9€🇪🇺→111¥🇯🇵→10som🇹🇯→70som🇰🇬
hitchhikers 
When I woke up, the painful was gone. But I was bitten by tick and flea. So itchy ((((;゚Д゚)))))))
Special breakfast.
お粥(甘いやつ)と味のない揚げパン。しかし美味い。
In the morning was cold. I carried my backpack and left home.
Good whether. ヒッチにはモッテコイな日。
Last part of Hitchhike in Tajikistan. If I could find a car, it's absolutely goes to Kyrgyzstan 🇰🇬 !!
I couldn't do anything but I just expected to stop a car from bottom of my mind.
心の底からを直訳したけどあってんのかなーwwwそんな言い回し外国人そもそもしない説濃厚。
とにかく何も出来ないのがヒッチハイクだけど心の底から止まりますように!🙏と願った。
While waiting, a police who looked like bored reached me and talked. He knows what is Hitchhike and how difficult to catch it in here.
Since I had waited 2h, 2 travelers appeared. They were couple and from Germany 🇩🇪 and Hittchihiker as well.
The rote was same but they seemed to give up Hitchhike in several places. I understand their mind. Because I also almost broke heart to wait... fortunately the car always picked me up before being broken in my case.
So when we were talking, one looks like tourist car stopped!!!
"One person can get in!!"
Two German travelers recommended me to take it soon with smile 😆
Ohhhh!!! Danke schön🙏
I appreciate their big heart. I want to be such a these parsons.
「1人だけ!」って言われた時一瞬躊躇したけど、ドイツ人2人がニカッと笑顔で「先に行きなよ!私たちは後から来たし2人だし笑笑。何とかするから大丈夫よ!」と言うお言葉に甘えてお先に乗車。こんな人達になりたいなぁー。
Inside was 3travelers. One guy is from Swiss 🇨🇭, one couple is from Germany 🇩🇪. Wow, German again.
They came here as vacation. All of them got 1month holidays... it's quite long for me. Even the woman from Germany works ministry of economic. 
カップルの女性の方はドイツの経産省みたいなところで働いてるんだけどそれで1ヶ月の夏休みを取ってた。何で日本は取れないんだろうなー。
俺も働いてた頃(遠い昔のようだwww)は2週間夏休みは取ってて、周りから長い長い言われたけどヨーロッパから来てる旅行者の話聞くと1ヶ月が当たり前だから短いんだよな。
みんな!休もう!!
Cross the border. Finally ..
When we arrived first town in Kyrgyzstan, they went to different city. So we separated there. 
Thanks!! I totally succeeded to only hitchhiking in Pamir area. It was the most difficult I've ever tried Hittchihike. My patience grew up too much.
Welcome to Kyrgyzstan 🇰🇬!!
I headed out to Osh. Osh is the second biggest city in Kyrgyzstan.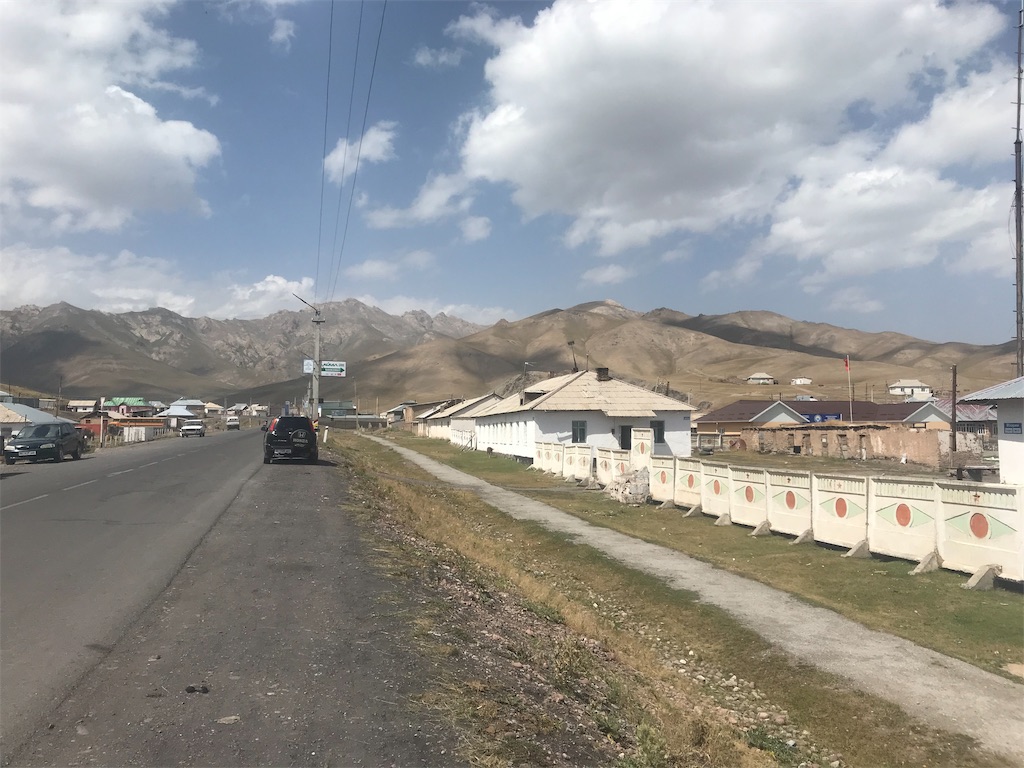 Washing car on the way.
When I arrived Osh, somehow I could get free wifi and waited to reply from host. But he didn't send message.
while waiting, 2guys asked what I was doing. As I explained, one guy was learning Japanese and  could speak Japanese!!!!
He and his friend offer to host me. Of course,  immediately I said "Yes"
We cameback friend house. 
下山そっくりなマントゥ作りのおばちゃんおった!!
Friend house has WiFi and closed to center area. 
I enjoyed capitalism in Osh!!
YOLO!!