Amigos🌵!Je m'appelle Hayato (하야토)!
Temperature 27℃, cloudy
💱→1$🇺🇸→0.9€🇪🇺→111¥🇯🇵→113RUP🇳🇵
Finally I was bitten by Leech!! Lol
Leech is like bloodsucking worm 🐛 🧛‍♂️ Of course it was first time to be bitten and not so itchy.
But!!
Bloodshed Didn't stop at all!!
Even I used bandaid, it blow out such as fountain of Trevi. So I stopped to care about it. 
初めてヒルに噛まれた!子どもの頃図鑑で見つけてこいつコエーなー、一生噛まれたくねぇと思ってた生き物。はい、やられました。
痒みに弱い方だけど(南京虫の痒みは1日でおさまる方だが)そこまで痒くない。普通の蚊🦟の方が痒いと思う。
ただ血が止まらん。
ドクドクドクドクと湯水のように直径1mmの噛み口から溢れ出てくる。金も湧いてこねーかなって思いながら絆創膏貼ったけどそれも通過して靴下が真っ赤に染まってた。ヒルこえーwww
I found many leeches while hiking in this day. Somehow they didn't appear around Yachi, but me lol
Pony is important transportation.
Just cloudy wa precious time for us. 
牛発見!
勝手に餌付け(落ちてたキャベツ)
彼は牛が食べてくれてとても嬉しそうだ。
After walking 4h, we got a lunch. Then I ordered Korean soup! Somehow restaurants has many Korean cuisines. Especially Shin ramen must be in there.
It made me warm from inside... 
Afternoon was raining. Since I didn't have good waterproof jacket, it was so so cold 🥶  Fortunately we walked in Jungle, so trees sometimes prevented me from rain direct.
4h walking. Finally arrived lodge where we sleep.
洗濯物乾くんか?とりあえずみんな干してます。
In the night we saw a movie which Yachi downloaded before hiking. Then we slept around 10pm.
やちの残念なブレックファースト。笑
Good morning!! However the birds didn't sing, it was cloud!
Immediately started raining 😭
Showshank by Yachi
Stairs also changed small water falls.
Finally I took this ↓
umbrella!! You know this is hiking.
We walked 6h and arrived more than 3000m in this rainy day. Yachi seemed to get little bit headache. Our guide gave a medicine to Yachi.
We hoped it would be cloud, really we didn't hope sunny lol, and slept early. And we used sleeping bag.
Goodnight zzz
................................
As the place was in over 3000m, it was so cold. I put on long pants and coat. Let's hike again!
謎に手袋の上にゴム手袋をする。彼曰く防水らしい。プチ高山病のやちです。
As we reached ABC(Annapurna base camp), we found avalanche hole.
Until BC is just 20min!! Then sun showed his face little bit and lighted summit of mountain 🏔!
かっ、かっけぇ……
It was just 5min... But sooooo beautiful!!
Finally!! 4130m!!
We arrived 13:00pm. But lodge was almost full people. Hikers were gathering in living room and talking and playing cards ♣️. In the room was quite cold.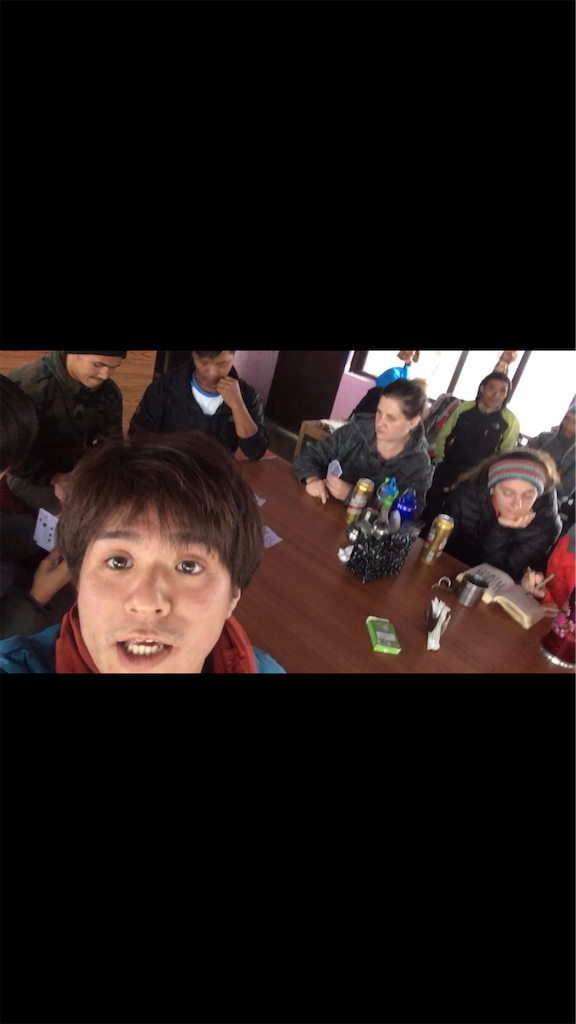 Nepali trump game.
Outside was totally raining. Add to say, it was heavy rain( ͡° ͜ʖ ͡°)
All hikers were almost same schedule as we hike. So I guess everyone hoped it would be sunny tomorrow morning.
Plz!! Sunny!! Sunny!! Sunny!!🙏🙏🙏
YOLO!!