Amigos🌵!Je m'appelle Hayato (하야토)!
Temperature 31℃, sunny
💱→1$🇺🇸→0.9€🇪🇺→111¥🇯🇵→4.2MYR🇲🇾→1.4B$🇧🇳
Early morning, Yachi left hostel. See you soon!! 
早朝5:30am、やっちーは宿を出て空港に行った。また会おう!どこかで!とゆーか多分次は日本かな(フラグたったwww)
I cameback my bed and slept again. Also I was gonna leave KL. This time KL is just transit city however they don't have many sightseeing places haha.
So I left hostel around 10am. At first I went to Adi's home to put my big luggage because I bought most cheapest seat which didn't include luggage fee.
My flight was 3:00pm. Check-in was super quickly. If yu take Air Asia, you might not need to come 2hours before. 
they sell BTS uno. 
エアーアジアさん、まさかのBTSウノ売ってたwww KPOPオタクの皆さん、いかがでしょーか、650円で買えますよ( ゚∀゚ )ハァーハッハッ!!
I arrived Brunei 4pm. Then I started walking to city center. It's 8km. Of course there is a bus and it cost 80¢. Exchange in airport was not bad commissions. But as I had a lots time and no plan, I decided to do this.
O...Oh.... Im been steaming(΄◉◞౪◟◉`)
あ、あぢぃ…
Here Burnei is hotter and humidity than Malaysia. My feeling was like I was in Jungle.
感覚的にマレーシアよりも湿気半端なくて暑い!いや、歩いてるってのを差し引いてもジメジメとしてます。ツラタン。
Brunei is also Muslim country but I encountered people came out from church.
I didn't think there is church.
As I closed to central area, I saw mosque.
If I hadn't see mosque too much, I would be surprised but I have already seen like these beautiful mosques in Iran... 
Well, I don't have accommodation. But I knew Brunei is one of the safest country in the world, so I decided to sleep outside.
宿決めてなかったしブルネイは世界でも安全な国と言われてるから野宿決定。暑いし。ちょーど川ぞいにいい感じのベンチがあったからそこで寝てみた。
I found good bench beside of the river. I laid down there and slept. While sleeping, some couples passed.
Fuuuuuuu!!! It's top secret!! 😜😜
(Be careful!!) homeless Japanese traveler said.
Around 3am, suddenly It rained ☔️☔️
I escaped where there has roof and slept again. During the night was comfortable. Good breeze, cool temperature.
zzz
Gooood morning!!! I woke up 9:00am!! Wow how long I was sleeping!! Let's go sightseeing!!
Brunei has town on the river. It's traditional residence.
Can you see??
Of course locals and tourists usually use boat. But I was walking 🚶 however if using boat is 2min. I walked 1h lol
Yellow roof roof building (?) is school.
Passage is old and can see under. First time to walk on this was scary. It's easy to imagine to break!!!
中々こえーぞ歩くのwwwパキッ!バキバキバキ!っていくのが簡単にイメージ出来ちゃうww
I met a guy. And he explained there were 2types residents. One of them is traditional, another is recently modern one.
Traditional one. They are colorful houses.
Haha. Just house on the river!!
I entered such a museum.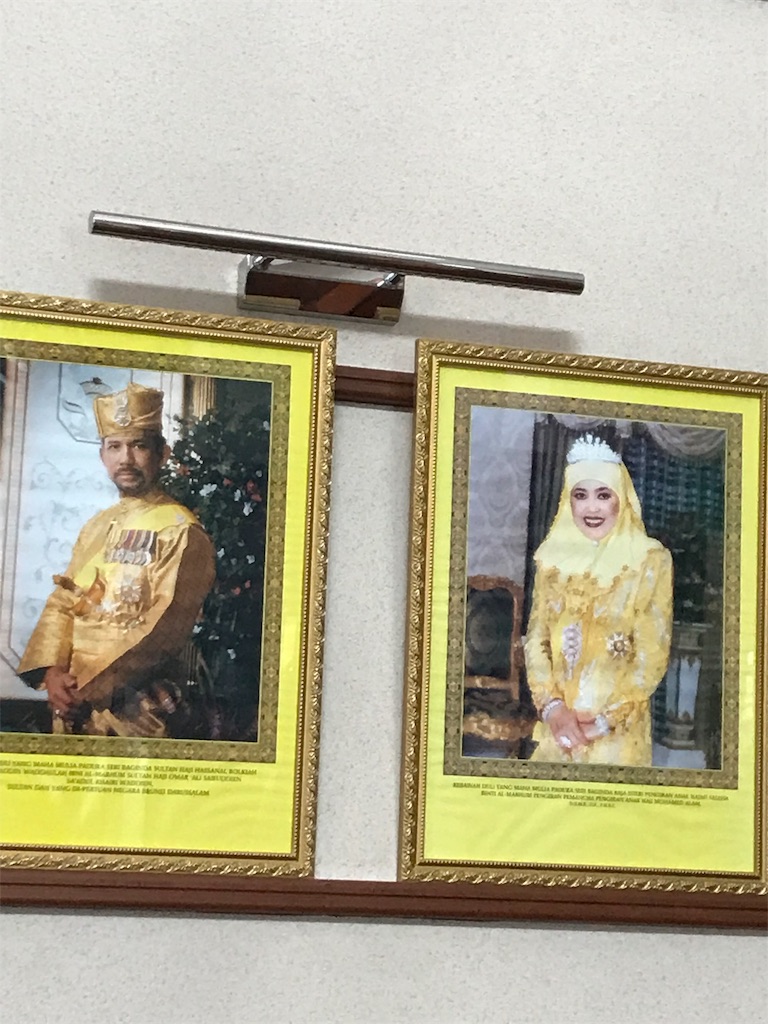 King(?) I forgot. Princess is.... 
4pm, I left Brunei and cameback KL. Brunei seems to have great nature, so I'll go there one day!! Fortunately there is directly flight from Japan.
YOLO!!