Amigos🌵!Je m'appelle Hayato (하야토)!
Temperature 31℃, sunny
💱→1$🇺🇸→0.9€🇪🇺→111¥🇯🇵→4.2MYR🇲🇾→1.3SOD🇸🇬
Second popular place in Singapore is zoo. This zoo has night safari tour. Actually they're first to start night zoo tour in the world. I remember when I was kids, my family came and did it.
Price is more than 30S$~. Well... if I had kids, I would bring... so next time...
Then I found what there is botanical garden!! I guess I usually visit botanical garden in several countries. Somehow I became to like it haha.
To go here is very easy. Entrance is near station however the station name is botanical garden.
Fee is free. Sounds good 👍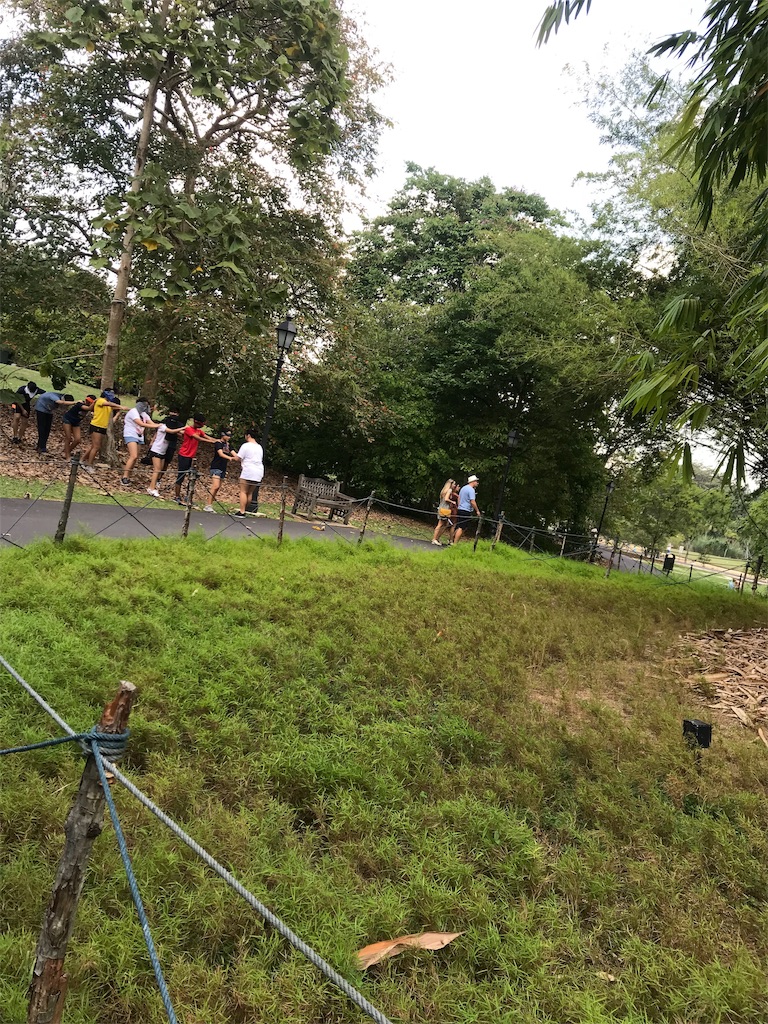 So quiet and comfortable... I took a nap a little bit.
めちゃめちゃ広くて静かでそよそよ風が体を横にさせてくる。流れに身を任せて広場にゴローーーンと横になる。ははぁーん、これは最高じゃねぇか。
Big leaves 🍁 
俺の顔よりも遥かにでかい。いや、顔よりも生際が際どくなってるな。これはやべぇな、きてるな((((;゚Д゚)))))))
Wow, I found my bro!!

same hair 
We came from North Korea 🇰🇵 
Some places explain history of Singapore however their history is as well as South Asian history lol
squirrel. Could you find??
普通に花が綺麗に咲いとります。
Before I back home, I ate chiken rice.
sauce is sweet. But it made meat more tasty!! It cost 4S$... in Malaysia, they sell 2$.
Dinner was Takoyaki!! I cooked for Issac and his roommates too.
火力は中国並みに強えwww
ホクホク!ごま油とニンニク多めでかなりチャイニーズたこ焼き!
Actually to cook Takoyaki in Singapore is quite easy if you have plate(← however I guess to get plate is most difficult point 🤣), you can get all correct ingredients. But somehow Singapore, or Chinese(?), wheat was very sticky. But you can find good wheat.
After eating, I  tried to tidy up my cooking takoyaki items. But I couldn't find all.
"Issac, do you know where is my items?"
"!!!!!!!!!! Sorry I threw away all😱😱😱😱!!!"
THREW AWAY ALL.
*・゜゚・*:.。..。.:*・'(*゚▽゚*)'・*:.。. .。.:*・゜゚・*
Singapore trash box is like hell box. If trash was thrown once, it is impossible to see again.
アイザックが皿洗いしてくれてそのついでに俺のたこ焼きセット入れをゴミと勘違いして全部ビシャーン!!とシンガポール 式ゴミ箱に投下されてまったwwwもう二度と見ることのないグッズ達……あばよ!!笑笑
Alive items..
Can I cook takoyaki again!?
YOLO!!