Amigos🌵!Je m'appelle Hayato (하야토)!
Temperature 33℃, sunny
💱→1$🇺🇸→0.9€🇪🇺→111¥🇯🇵 →140kIDR🇮🇩
Oh heavy bags..
My friend booked a hotel room for me. So I headed out to there. At that time I didn't know Grab which is like Uber in Indonesia, so I waited a bus.

1h... 2h...
Finally they didn't appeared 😭Actually there is a bus from airport to downtown. If I took a taxi, it cost 1500k~. Of course it's quite expensive!!!
I decided to walk until I get a bus on the way. But this choice made my plan messy...
JFC. He might be brother of Kernel Sanders.
While I was walking 1h and half, they still didn't appear at all!!
I walked 8km in Bali which is called resort island 🌴 
空港からバスあるって話聞いて待ったけど1時間現れなかったから歩いた。それもまた1時間現れず結局炎天下のバリを空港から8km歩いて宿到着。あのバリを、あのリゾート地のバリをこんなにも歩くなんて…不便な島である😤(金がないとこーなる)
_| ̄|○、;'.・ オェェェェェ
So I was sleeping in the room however my first plan was to go beach and eat seafood with nice ocean view...
As this nice hotel has Jacuzzi, I took it in the night.
Oops!!
My iPhone slipped down. He made good sheet of spray!!
ツルリと手から滑り落ちるiPhone君。君もジャグジーに入りたかったのかい?気持ち良さそうにバシャーン!と高飛び込みなら0点を叩き出す豪快な水しぶきを上げて入浴。
Bubububububu..... screen was black. I couldn't see t allヤベ━━━━[;゚;Д;゚;]━━━━!!
So sad 😭 walking 8km, broken phone, What a Bali!!
Next day I went to fix shop. They found a reason quickly and fixed. It cost 2h. 


Phone is one of the most important tool in my travel. So I paid good price. And I bought sim too. 


At first I went to Green bowl beach. Although I thought it's famous place ,there were less people than I expected.
き、きれいじゃねーか!!
バックパック背負って来たかいがあったぜ……(この日の宿をまだ見つけてなかっただけ)
I swum around 30min. It was sooooo confortable!! After that, I read a Japanese novel.
今更この小説かよシリーズ。『君の膵臓をたべたい』
This book made me think what is living... I recommend you to read it.
Reading nice book, breeze comfortable, sun shine give me energy.
Or rather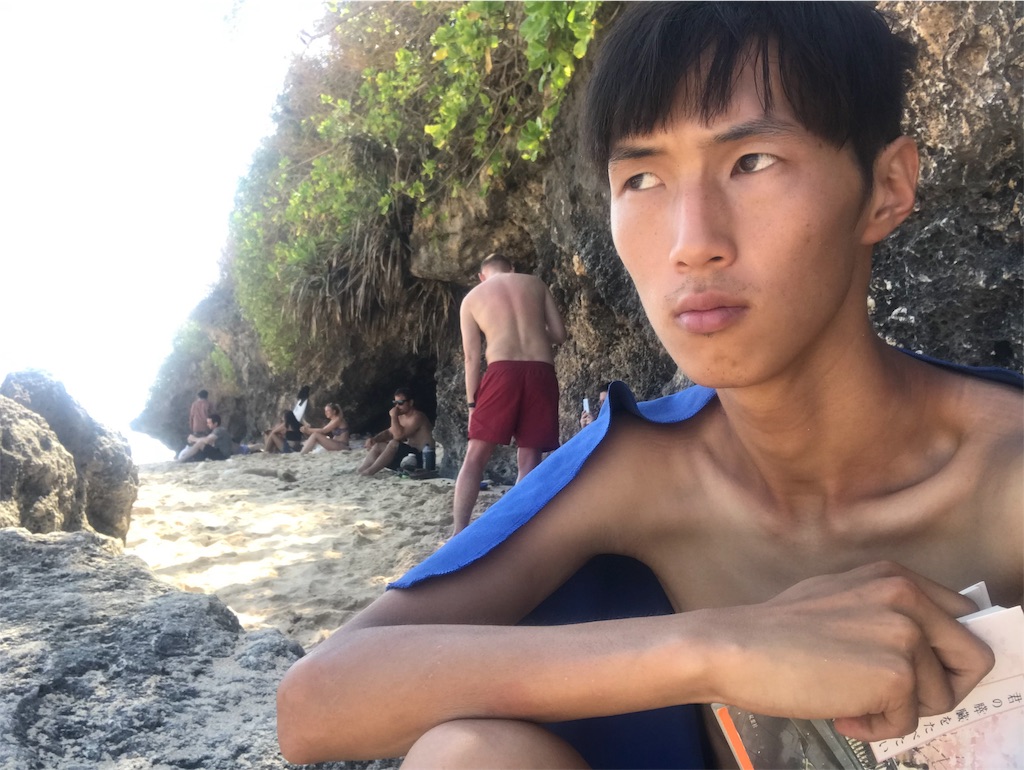 After all alone  in resort was bored.
バリは1人より2人以上がやっぱいいわ!!
YOLO!!