Amigos🌵!世界一周中のはやと(하야토)です。
気温は19℃、お天気は晴れ
通貨→1$🇺🇸→0.8€🇪🇺→130¥🇯🇵→9.4MAD🇲🇦
Hey Vidal ... why chose this hairstyle 🤦‍♂️
 It was Clásico yesterday. Yes! The Biggest match in Spain Barcelona vs Real Madrid!!
I heard Moroccan like football which is not domestic league but abroad it as Liga española, Bundesliga,Serie A, Premier league,etc...
In my case, I don't interest Abroad league. I like J league!!!
WE ARE REDS ━━━━━ヽ( ゚Д゚)人(゚Д゚ )ノ━━━━━━!!
1 week ago J league also had big match. Urawa reds vs Kashima antles.
Of course we won!! 3-1!!
Let's go ACL!!
Anyway no one walked on the street during the game 
Where are they??
So mostly people are in cafe!
Each cafe has TV.
He doesn't have money to enter... like me🤣
Result was 5-1.
Barcelona won!! What happened Madrid (゚ω゚) Even Messi didn't join this game. 
After game people went out.
Warawara.
Some people are smile some people are  sirious lol
The small kind of market was opened. Even n Sunday.
night owl Brothers
Also went to Medina again.
I like this place. I feel I'm in Morocco. But not so noisy.
Is this famous cake shop??
 There are a lots cheap cake shop. One piece 4Mad~. 
Dinner is takoyaki 🐙
Japan import a lot octopus from Morocco. My sister friends said Moroccan octopus which is exported to Tokyo is a little bit expensive than to Osaka. Right??
I couldn't find only octopus... and Montacir say "Octopus is expensive in Morocco."
But I could find seafood pack! 400g 18mad!! Around 200yen. 
Seafood.
Nice!
Gaooooooo!!!
selfieeeee!!
Thailand style
Japanese style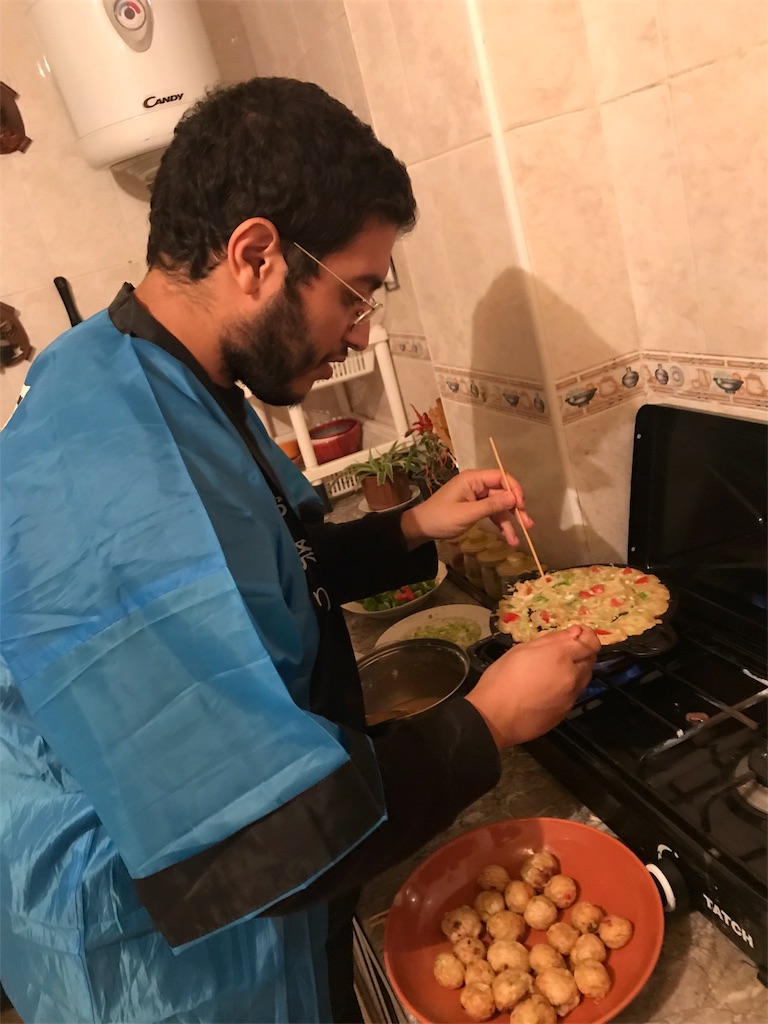 He is good chef 👨‍🍳 
In this case, outside was very thin. So we should turn as soon as possible((((;゚Д゚)))))))
FINISH!!
More than 100 takoyaki...
Left one is sweets. 
There was little bit lack of salt.. and seafood flavor was strong. Surimi Takoyaki was not good lol
Next Takoyaki is in Senegal 🇸🇳!! Maybe.
YOLO!!