Amigos🌵!世界一周中のはやと(하야토)です。
気温は21℃、お天気は晴れ
通貨→1$🇺🇸→0.8€🇪🇺→130¥🇯🇵→9.4MAD🇲🇦
Agadir is not cold because there is South. And Mriss give me 2 thick blankets. Super warm during the night:)
This day we went to beach 🏖
However Agadir is resort area, there are dirty places except for that area as well. 
It can see that many new buildings are constructing. 10years later, this area will be beautiful... Should I buy room now🤔???
We were walking in 15min.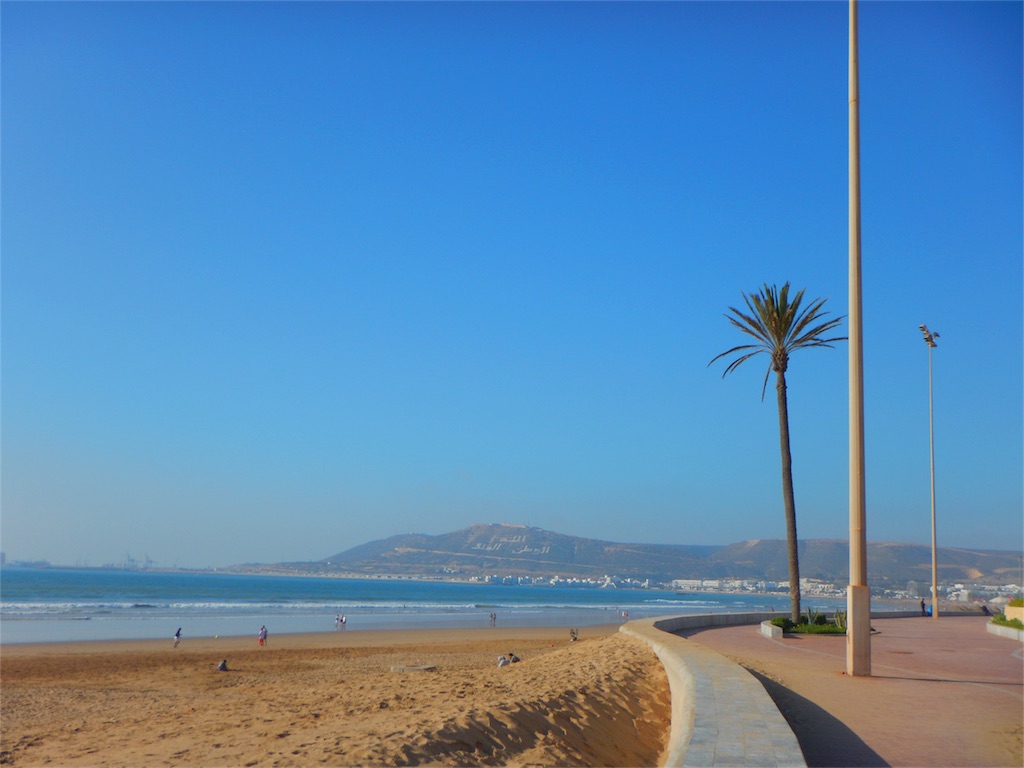 Beach!!
The wave is not strong. Looks like gentleman. Yes you can see a lots surfers 🏄🏄‍♀️
People were playing only beach football. I didn't see what people played volleyball. Mriss told me mostly these people don't work. So you can see this everyday and same parsons lol
the restaurant which is along with beach is looks like expensive. It's for rich person. I saw many French tourists. Knowing language make you travel easy. I mean if your mather luggage is spoken another country, Not scared. Anyway I have to study English and Spanish and now French as well.... no mames...
We aimed to go top of this mountain.
God, king, national( I guess. Give me answer! Lol)
I asked Mriss that " how minutes from here to top?"
"ummm... maybe 20min?"
"Lol. Are you kidding me? Definitely more than 1h!!!"
"No~!!! Maybe around 20~30min!!!"
Mriss said. Ok, vamos.(I knew I'm correct!!)
Finally we walked 2h.
_| ̄|○、;'.・ Oeeeeeeeee.....
Moroccan mind is quite similar Latino it. 20min is 2h. Now I'm coming is I'm still home. I like these things. But they can't live in Japan lol
This place is one of famous place in Agadir. That's why a lots vister came here.
Give me money Smile 🤣
when I came like this place, I always put on Colomnia uniform lol I don't know why.
Opposite view is also beautiful.
"Morocco is desert!!" Yes of course. And Morocco has nice places too (like these pictures). I didn't go desert but I could see it ( ´∀`) This time in Morocco I didn't go local place coz I have to go Liberia until middle of December. Next time I will go small town which my friends recommend me!!
And tomorrow Im gonna start to my first time thing. Maybe I can't write blog.
YOLO!!